Kitchen Cabinets Newmarket, York Region, Canada
If you live in the Newmarket area and are looking for Kitchen Cabinets, you've come to the right website. Our professional kitchen designers are ready to help you. We only provide high quality custom kitchen cabinets for the residents of Newmarket and surrounding areas.
The kitchen is the most used room in your house and used every day to cook meals and dinners.
Our custom kitchen cabinets represent outstanding quality and value. Get your dream kitchen built at a affordable price. Come visit our huge showroom today for all your Newmarket kitchen cabinets needs.
We have huge collection of custom kitchen cabinets on display at our showroom, in variety of styles and finishes, you are sure to find your dream kitchen cabinets.
---
Modern White Kitchen Cabinets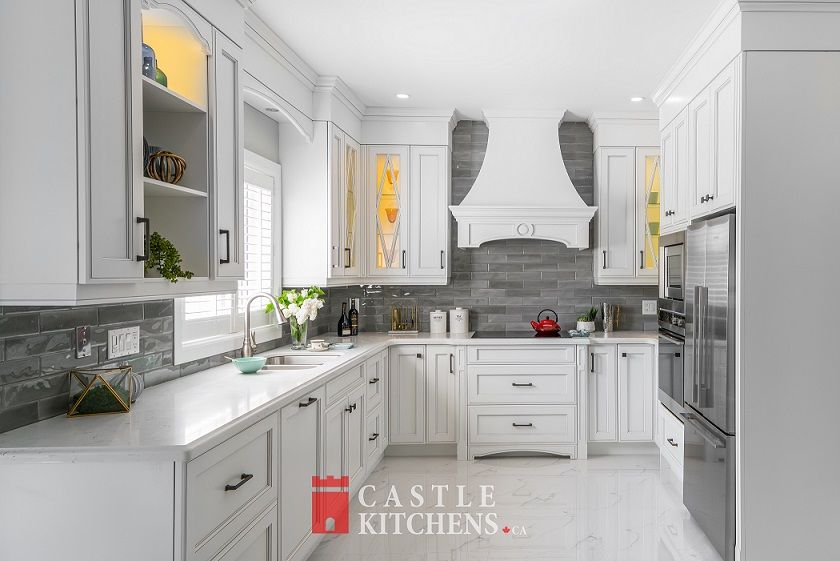 When it comes to kitchen design, white kitchen cabinets are a very popular choice. They add a bright and clean look to any kitchen.
White kitchen cabinets are a very affordable option for kitchen remodeling and renovation project. They are glossy, refined and typically minimalist. Modern White Kitchen Cabinets, Shaker Cabinets, and Black Cabinets are the latest trend in Kitchen Cabinetry and we have them on display at our showroom.
Our goal is to provide high quality kitchen Cabinets. The Castle Kitchens team of expert kitchen designers make sure the entire process is as hassle-free for you as possible.
Why Buy Our Custom Kitchen Cabinets?
We have Over 21 years of experience in design and manufacturing
Custom Design Process
Massive showroom with displays
Proudly manufactured in Canada
Kitchen Showroom with 400 door styles and 16,000 Sq. Ft showroom
Highest quality Cabinet materials
We deliver on time within budget
We have over 21 years experience in Design, Manufacturing custom kitchen cabinets.
And so if you're looking for kitchens cabinets in Newmarket, Ontario, Canada or anywhere in Greater Toronto Area, call us at 905-944-0060 or email us at info@castlekitchens.ca to learn more about our kitchen cabinets.