Custom Kitchen Cabinets In Vaughan – Ontario
Custom Kitchen Cabinets Made in Canada
Looking to install a new kitchen cabinets for your kitchen? We are one of top contractors for making Custom Kitchen Cabinets in Vaughan, Ontario at affordable prices. Visit our huge kitchen showroom to be inspired by our kitchen cabinets on display and also have a look at kitchen appliances, faucets, and sinks to help you with the design process. We're one stop shop for all your kitchen needs. Our team of experienced senior kitchen designers will guide you through the entire process of purchasing and installing custom kitchen cabinets.
Let us help you build the kitchen of your dreams. We have our own delivery service, so you can get your kitchen cabinets fast and safely. Traditional, Transitional or Modern style kitchen cabinets all have their own uniqueness.
As a trusted partner with over 24 years of experience and serving customers in Vaughan, Brampton, and all around York And Peel Region, Ontario, we have worked with hundreds of commercial, industrial and residential clients to create beautiful custom kitchens that not only look and feel great but will also last a lifetime.
Why Choose Our Custom Made Kitchen Cabinets In Vaughan, Ontario?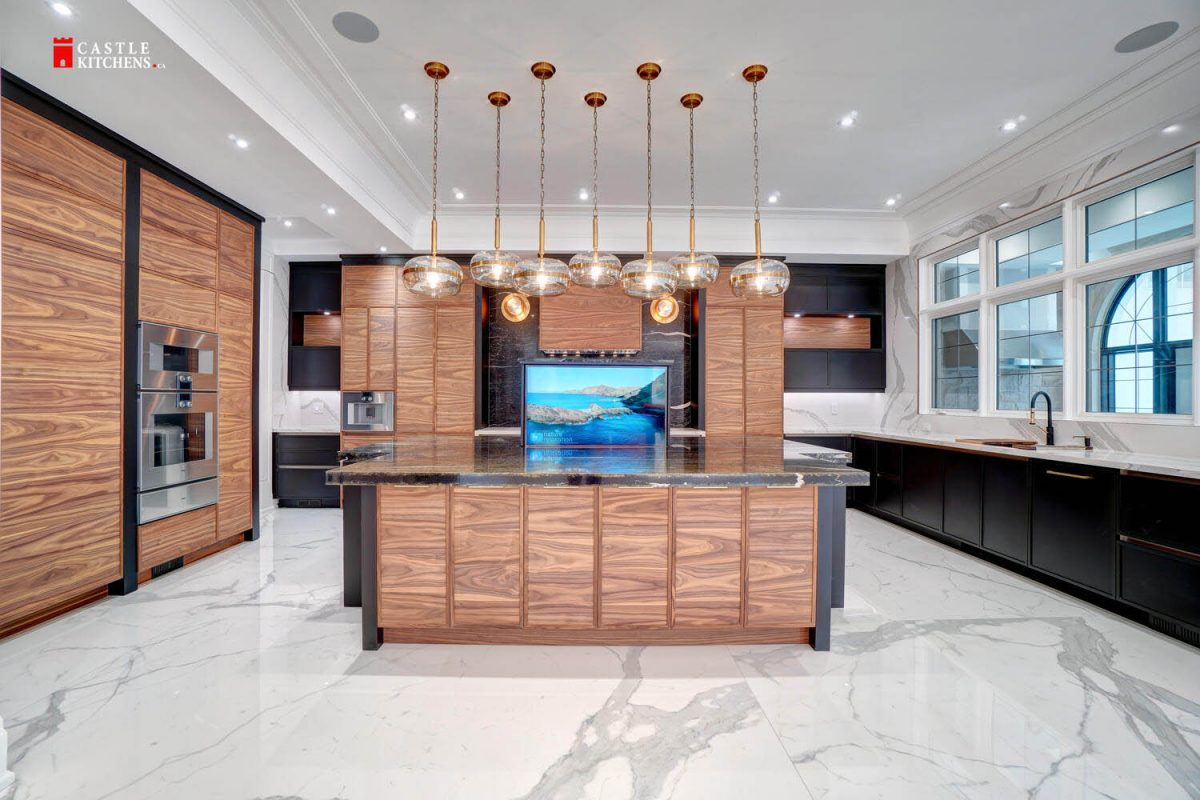 Over 24 years experience in design and manufacturing
Cabinets Proudly manufactured in Canada
Custom Design Process
Cabinets Made of High-Quality Materials
Massive showroom with displays
Passion and commitment
Friendly, knowledgeable and professional support
Fine craftsmanship
We deliver on time within budget
Be it a small or large kitchen space, our kitchen designers will come up with kitchen design ideas that you fall in love with. We'll visit your home in Vaughan and take perfect measurements and create a 3D version of the new custom kitchen. This will give you an idea of what to expect when the project is finished.
We have over 24 years of experience designing custom kitchen cabinets in Vaughan, Brampton, Woodbridge, Mississauga, Thornhill, Toronto, Markham, Caledon, Ontario. We start off by listening to our clients, and what they desire.
We specialize in custom kitchen cabinets, bathrooms, millwork, bathroom vanities, kitchen renovation and remodeling. We work with trade professionals and homeowners to ensure product selection is perfect for every project. We understand the work involved in making your dreams become reality and that is why we have become a trusted name for custom kitchen cabinets, remodeling, renovation and redesigning in the Vaughan area.
And so, if you're looking for kitchen cabinets in Vaughan, Ontario please call us at (905)-944-0060 or email us at info@castlekitchens.ca or visit our showroom to learn more about the options we have available for your kitchen.
Castle Kitchens is a family operated business and has been in the Kitchen Cabinetry business for over 24 years. We offer the most affordable custom made cabinets for your Vaughan kitchen.
We'll guide you thorough every step of installing your cabinets, kitchen renovation and remodeling steps and make sure your dream of a perfect kitchen becomes a reality. Our expansive 16,000 sqft showroom makes us one of Canada's largest retailers of quality Custom Kitchen Cabinets, and Plumbing products.
---
Our Recent Kitchen Projects