Kitchen Quartz Countertops In Markham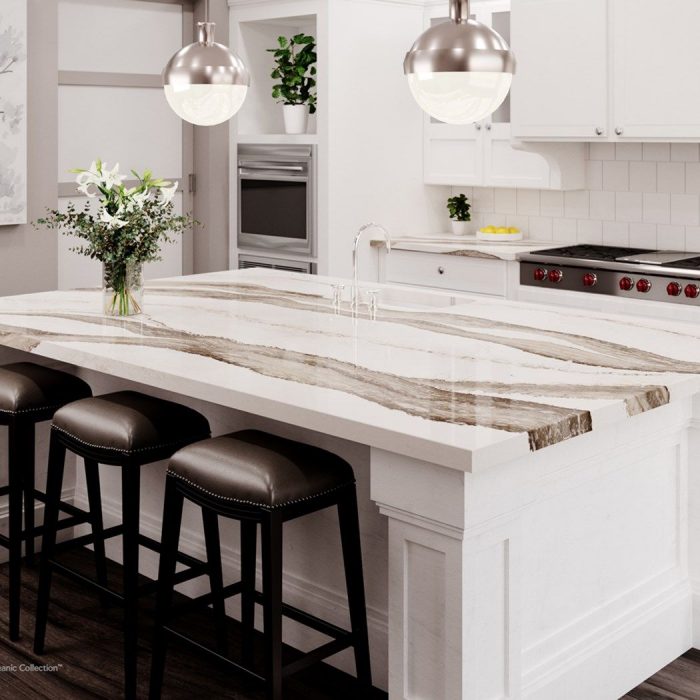 We carry a huge collection of Kitchen Quartz Countertops in Markham. Our other collection includes Marble, Laminate and Granite Countertops with various Edge Profiles and colours.
We serve communities in Toronto, Markham, Newmarket, Brampton, Mississauga, Vaughan, North York, Stouffville, Woodbridge, Maple, Thornhill, Concord, Aurora, Barrie, Etobicoke, Scarborough, Oshawa, Pickering, Ajax and Whitby.
In our showroom we display all brand name Quartz manufacturers as well as natural stone samples. Our goal is to exceed your expectations by designing and installing the perfect kitchen quartz countertops for you, your family and friends to enjoy. We do this, by first listening and understanding your lifestyle and then transform your kitchen ideas to a unique and beautiful kitchen.
---
Characteristics Of Quartz:
Composition: Around 93% mineral content. In contrast, solid surface 66% mineral and 33% in polymer.
Hardness: The process of creating quartz countertops saves the hardest mineral (quartz) and eliminates softer minerals and impurities. This means that quartz counters are harder and more durable than natural slab granite.
Low Water Absorption Rate: Quartz' low water absorption rate of 0.5% is on par with another low porosity material–porcelain tile. If the material weighs less than half of 1% more as a result of water absorbing into its surface, it is considered to be nonabsorbent.
Visible Seams: Unless the countertop is small enough to be fabricated from a single slab, two slabs often need to be seamed together. Depending on the skill of the installer, this seam can be minimized but it will never be invisible.
Heat Resistance: Quartz' minerals (not binders) are 100% impervious to heat, typically up to 360 F but only for a short duration. As Nancy Dalton of design firm Baywolf Dalton notes, "This material is not heat resistant. The binding materials will be damaged at high temperatures. Think hot fry pan. Some people think quartz is indestructible and that's just not the case."
---
Kitchen Quartz Countertops brands we carry include Caesarstone, Cambria, Hanstone and Silestone.
---
Our professional staff would be happy to assist you in making your next kitchen quartz countertops purchase, whether you are looking for Marble, Laminate and Granite Countertops. With over 20 years of experience, our team can assist you with everything from finding the correct item selection to project advice to technical specifications and much more.
We also offer quality kitchen cabinets at affordable prices. When it comes to custom kitchen cabinets, kitchen renovation, remodeling or redesigning, trust the experts at Castle Kitchens. With over 20 years experience, you are assured of professional service, quality workmanship, excellent products and outstanding service.
And So, if you are looking for kitchen quartz countertops in Toronto, Markham, Thornhill, Richmond Hill, Mississauga, Brampton, Stouffville, Newmarket, Scarborough, Ajax, Pickering, Whitby, Oshawa, Ontario or if you have any questions about kitchen countertops Prices, please feel free to call us at 9O5 -944-0060, email us at info@castlekitchens.ca. or simply stop by our showroom in Markham at any time and we would be glad to help you. We look forward to seeing you soon.