Kitchen Renovation Brampton, Ontario
Best Kitchen Renovation Company In Brampton, Ontario
Looking to renovate your kitchen in Brampton, Ontario? Contact Castle Kitchens for advice and tips from trusted and well reviewed renovation experts. Our experienced team of kitchen designers will guide you through the entire process. Your dream of a perfect kitchen can become a reality with Castle Kitchens.
Whether you're looking for a complete overhaul or simply wanting to modernize your living space, the Castle Kitchens Team of experts can help you make the most of your home.
We've completed many Bathroom And Kitchen renovation projects in Brampton and have have helped our clients dreams become a reality.
We'll help you choose the best materials, hardware, and finishes for your kitchen project. We believe the right use of technology can make cooking more personal and enjoyable.
---
How Much Does It Cost To Renovate A Kitchen In Brampton, Ontario?
When it comes to calculating the kitchen renovation cost in Brampton, Ontario, it can cost you around $20,000 – $30,000 for a small kitchen. But if its a large kitchen space and high end material and appliances are used, the costs can easily exceed $50,000- $100,000+ or more.
To find out what your Kitchen renovation will cost you in Brampton, call us today at 9O5-944-0060 and get a free consultation and get kitchen upgrade ideas.
As most kitchen renovation projects involve walls and ceiling painting, replacing or refacing the countertops and cabinets, replacing kitchen faucets and sinks, upgrading kitchen appliances and flooring work.
Communities And Neighbourhoods We serve in Brampton, Ontario
Brampton Neighbourhoods include: Bramalea, Castlemore, Churchville, Huttonville, Snelgrove, Tullamore, Mount Pleasant West, Tullamore And Springdale.
---
Custom Kitchen Cabinets Brampton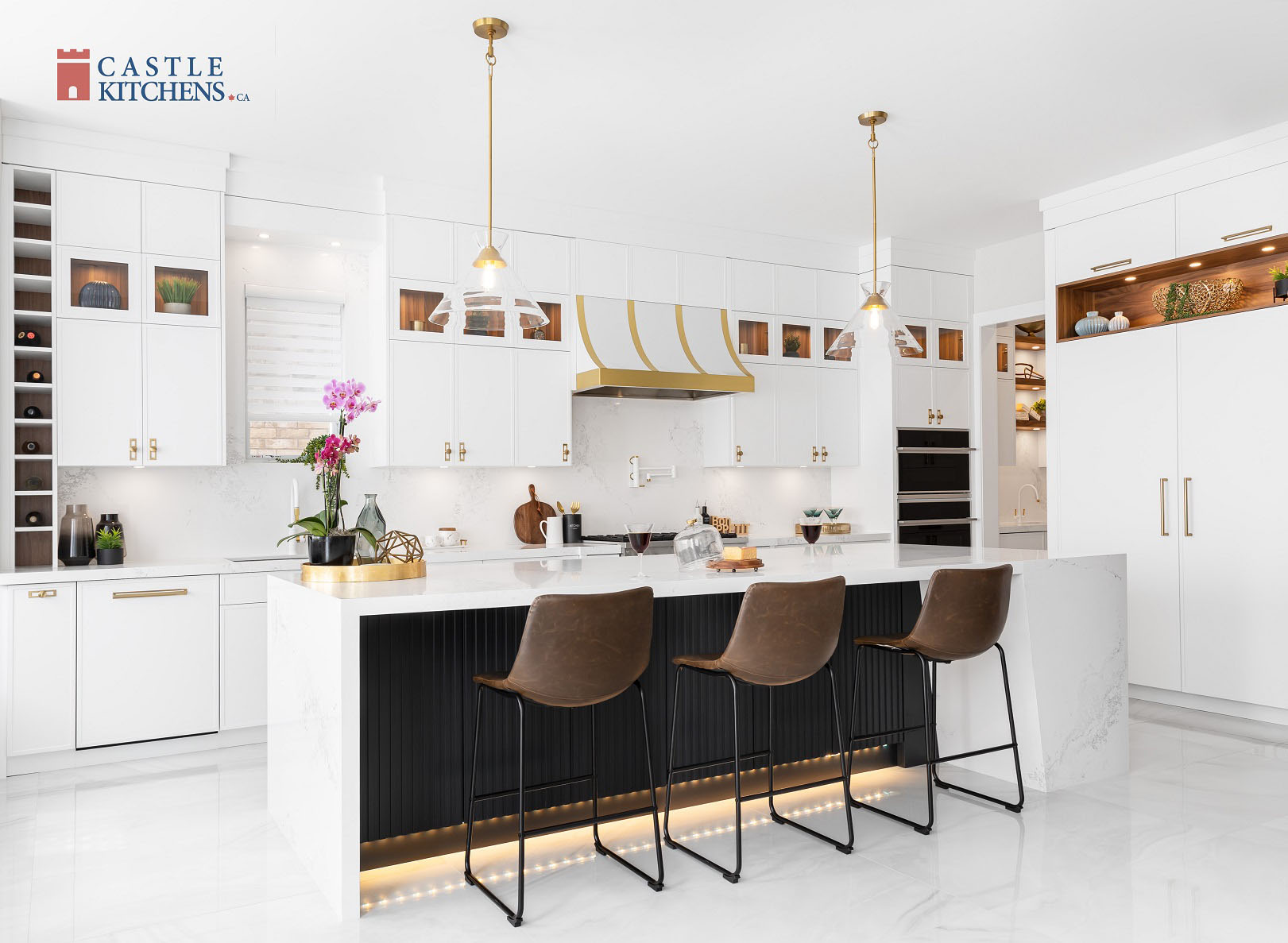 When it comes to investing in the kitchen, you should never compromise on your kitchen cabinets. Our Kitchen Cabinets are Custom Made according to your kitchen space and specifications. This enables us to make best use of your kitchen space.
Our custom cabinet work and modern kitchen cabinet design will meet all your kitchen renovation needs and expectations.
We are one stop shop for all your bathroom and kitchen renovation needs.
---
Starting a kitchen renovation can be overwhelming, especially when if you haven't undergone a renovation before. When planning to do a kitchen remodel or renovation, it's very important to find a reliable renovation company that have years of experience.
The experts at Castle Kitchens will work very closely with you in your home renovation project to design a beautiful and elegant kitchen by using fine custom kitchen cabinetry.
Our Custom Made Kitchen Cabinets Brampton are always made by hand specifically for each client.
For all your kitchen renovation in Brampton, Mississauga, or anywhere around the Greater Toronto Area, call us at 905-944-0060 or send us an email at info@castlekitchens.ca.
We will help you create beautiful kitchen of your dreams.
---
Our Latest Kitchen Renovation Projects