Miele Coffee Machines In Toronto, Ontario, Canada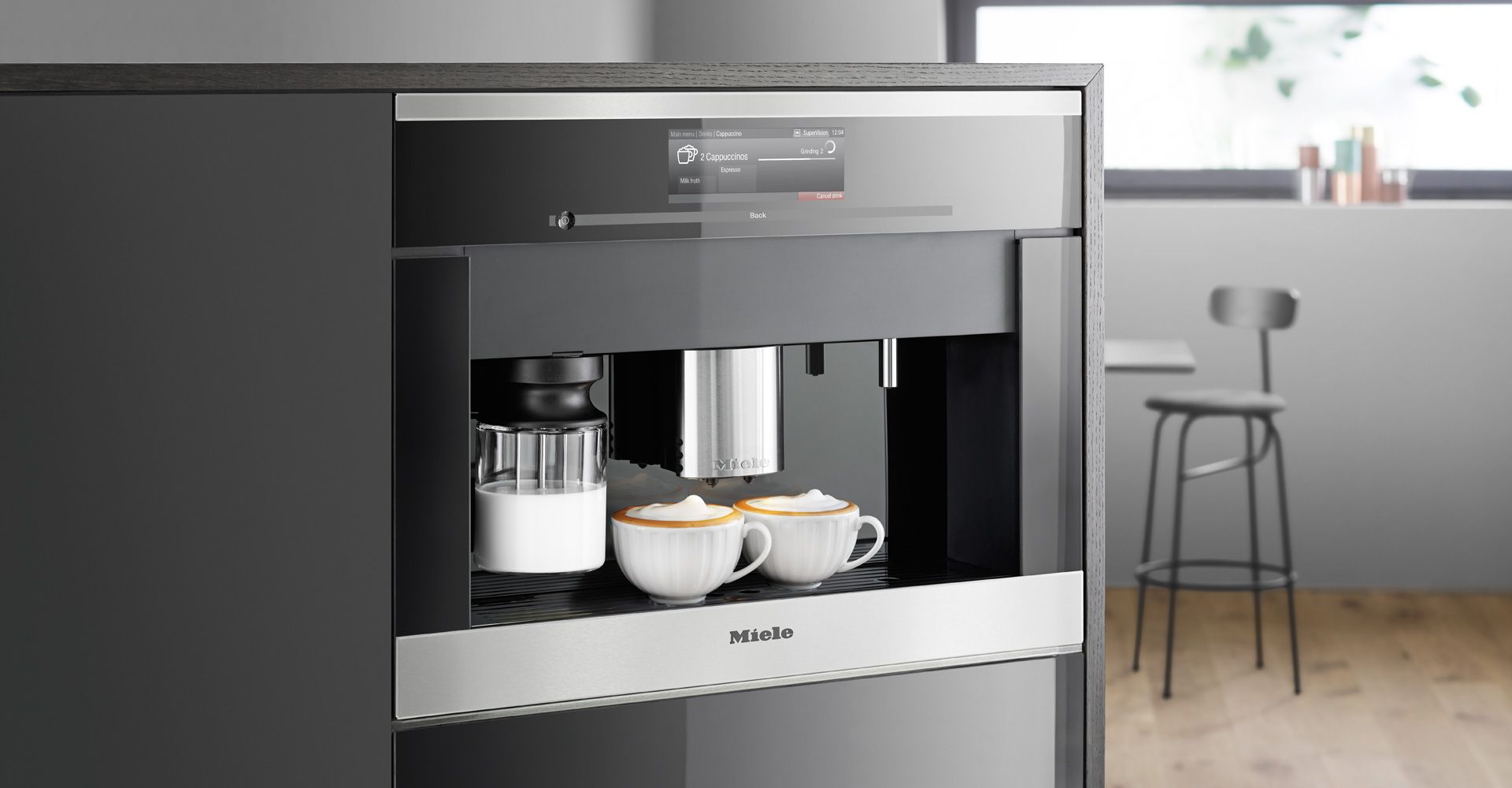 Miele Built-in Coffee Machines
Miele Coffee Machines comes in different sizes, designs. They offer two different types of coffee machines, built-in, for seamless integration into your custom kitchen cabinets, and freestanding machines for space saving and can be placed anywhere in your home. Choose Miele freestanding or built-in coffee machines for perfect coffee, cappuccinos, espresso, and lattes.
Designed for the highest quality of life, with unbeatable prices, product performance, durability and warranty. Miele Coffee Machines offers you a completely new coffee experience. Visit Castle Kitchens for the best collection of these Coffee Machines at guaranteed low prices that match your kitchen style and cooking needs. Whether you are looking for Built-in coffee machine or freestanding, you are certain to find the perfect coffee machine for your kitchen. These Coffee Machines are on display at our showroom for you to view and imagine your how future kitchen can look like.
---
Miele Canada offer two different types of coffee machines
Miele Built-in Coffee Machines
Built-in Coffee Machine fits perfectly into a 45 cm high recess in a tall wall unit. Combined with other Miele Appliances, it creates luxury experience. Also available as a plumbed-in version, which can be plugged straight into water supply and is always ready for use. A great benefit of this is your coffee will always be prepared fresh tap water.
Freestanding coffee machines
Miele freestanding coffee machines can be placed anywhere in the home and can save you space and so you can enjoy your coffee experience with just a touch of a button.
---
About Miele Canada

Miele Canada was established in 1989. Their Headquarters are located in Vaughan, Ontario, just north of Toronto. Today, They are widely accepted as Canada's premium supplier of high end Luxury kitchen appliances and respected for the quality of their products. Bringing German engineered appliances to homes all across Canada.
For more than 100 years, You can rely on Miele Canada Kitchen Appliances. They will not let you down. Their products are tested to the equivalent of up to 20 years of use. Miele Coffee Machines set the standards for performance, durability, and highest quality of life.
Why Buy Miele Coffee Machines From Us?
We have been working with Miele Canada for a number of years and offer quality Miele Coffee Machines at a very affordable prices. Buy Miele Canada Appliances today and experience luxury in your home. We carry complete collection of Miele Appliances including Dishwashers, Refrigerators, Cooktops, Ranges, Rangetops, Ovens, Drawers, Wine Storage, And Hood Fans.
Massive showroom with displays of Miele kitchen appliances
Over 21 years experience in design and manufacturing
We have our own delivery service, so you get your Miele Coffee Machine delivered fast and safely
Kitchen Showroom with 400 door styles and 16,000 Sq. Ft showroom
Friendly, knowledgeable and professional support
Our prices are very competitive with thousands of satisfied customers
We deliver on time and within budget
---
Castle Kitchens And Appliance carry huge collection of Kitchen Appliances including Refrigerators, Dishwashers, Cooktops, Ranges, Wall Ovens, Microwaves, Microwaves, Freezers, Coffee Machines, And Wine Storage. We are Canada's premium kitchen appliance source for high end luxury kitchen appliances in Toronto, And surrounding areas.
And so, if you are looking for Coffee Machine, and you live in the Greater Toronto Area or if you have any questions about Miele coffee machine parts or about manual, specs, promotions and prices, please feel free to call us at 9O5-944-0060, email us at info@castlekitchens.ca.