Miele Fridges Canada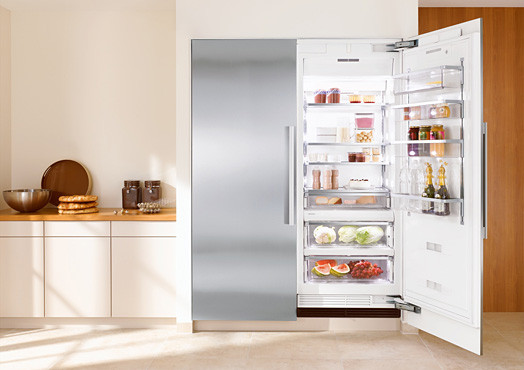 We at Castle Kitchens And Appliance carry huge selection of Miele fridges for sale at guaranteed low prices that match your kitchen style and cooking needs. Whether you are looking for Freestanding fridge or built in, We carry it. These Fridges are on display at our showroom for you to view and imagine your how future kitchen can look like.
Miele appliances come equipped with convenient and innovative features that ensures all types of food are kept fresh, frozen or stored under the most ideal temperatures.
Miele refrigerators are designed to keep your groceries fresh in an efficient and well organized way.
We also carry Miele Dishwashers, Ranges, Rangetops, Ovens, Coffee machines, Wine Storage, And Ventilation Hoods.
Food is at the heart of every kitchen. The best way to keep food and vegetables fresh is to keep it in a Miele refrigerator. From cooking appliances to refrigeration and dishwashers, Miele product lineup delivers peerless power, performance and give you control to every corner of your kitchen
Our team of expert NKBA certified designers manage client remodeling projects through all stages; conceptual design, quotation, renovation, and completion. Our knowledgeable and friendly staff would be glad to help you, with any questions you might have regarding purchasing the right Miele Fridge for your home.
Why Buy Miele Fridges in Toronto, Ontario, Canada From Us?
We have been working with Miele Canada for a number of years and offer quality Miele Fridges at a very affordable prices. Buy Miele Appliances today and experience luxury.
Massive showroom with displays of Miele kitchen appliances
Over 21 years experience in design and manufacturing
We have our own delivery service, so you get your Miele Fridge fast and safely
Custom Design Process
Kitchen Showroom with 400 door styles and 16,000 Sq. Ft showroom
Passion and commitment
Friendly, knowledgeable and professional support
Our prices are very competitive with thousands of satisfied customers
We deliver on time and within budget
---
About Miele Canada

Miele Canada was established in 1989. Their Headquarters are located in Vaughan, Ontario, just north of Toronto. Today, They are widely accepted as Canada's premium supplier of high end Luxury kitchen appliances and respected for the quality of their products. Bringing German engineered appliances to homes all across Canada.
For more than 100 years: You can rely on Miele Appliances. They will not let you down. Their products are tested to the equivalent of up to 20 years of use. Miele Fridges set the standards for performance, durability, ease of use, energy efficiency, design and service.
And so, if you are looking for Miele Fridge Canada, and you live in the Greater Toronto Area (GTA) or if you have any questions about miele fridge filter or about manual, promotions and prices, please feel free to call us at 9O5-944-0060, email us at info@castlekitchens.ca. Come feel the difference we have to offer.