Best Rated Outdoor Kitchens In Toronto, Ontario, Canada
Take Your Outdoor Kitchen to the Next Level
We can help you create a space that's perfect for not only cooking but also for entertainment as well. Built-in Grills, outdoor refrigerators, outdoor pizza ovens, and Storage Space all come together to create a stylish and functional outdoor kitchen space. Investing in outdoor kitchen will increase the value of your property.
Our extensive outdoor kitchen appliances and cabinets collection includes innovations that you won't find anywhere in the Greater Toronto Area and deliver everything from the flame to the refreshments.
From the Installation to Design, we take care of everything helping you create your dream Outdoor Kitchen. We have helped many customers in the Toronto, Markham, Richmond Hill, Stouffville, Vaughan, Ontario, And All around Greater Toronto Area.
Create a luxurious outdoor kitchen living space.
We look forward to making your kitchen dreams a reality. Be it a small or large kitchen space, we'll come up with a kitchen design that you would love.
If you have any questions about Outdoor Kitchen prices or installation guide, please call us at (905) 944-0060 or email us at info@castlekitchens.ca. to learn more about our products line and competitive pricing.
---
Urban Bonfire Outdoor Kitchens And Cabinets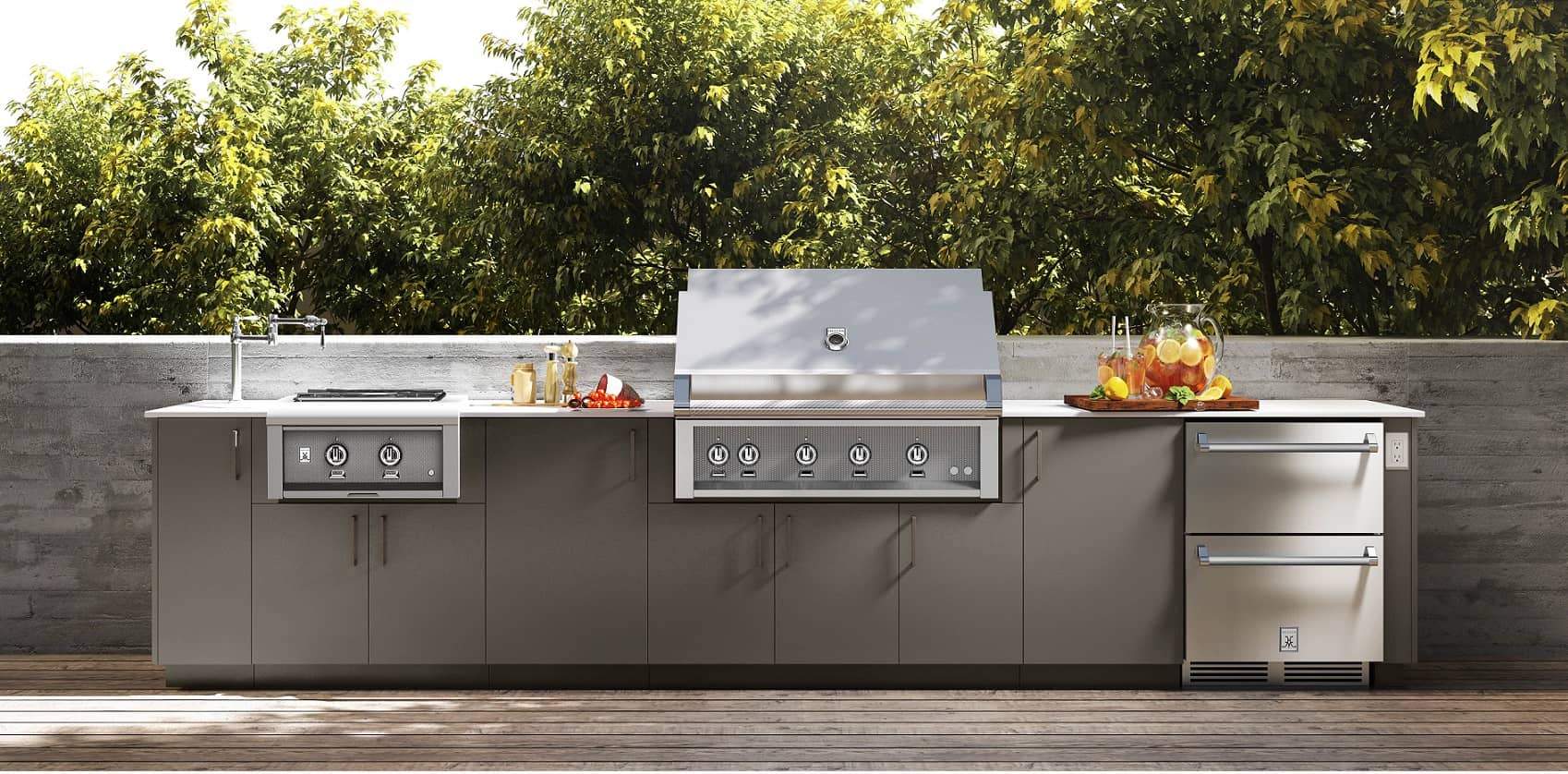 Urban Bonfire is the market leader in outdoor space activation centered around family, friends, food and lasting memories. Urban Bonfire design and manufacture functional, beautiful and high-performance outdoor kitchens and entertainment solutions for clients in Canada, USA And all around the Globe.
Urban Bonfire is dedicated to designing and manufacturing timeless quality products for outdoor kitchen space.
Their selection of more than fifty configurations allows you to choose a kitchen that suits your needs and your space.
---
Hestan Grills
Hestan Outdoor Freestanding And Built-in Grills perfect the patio with heavy-duty performance and thoughtful design. Earning Vesta Awards for the best grill.
These beautiful grills are available in Standard widths. Exceptional features.
Hestan built-in grills deliver the utmost performance to your custom enclosure with 25,000 BTU burners, infrared rotisserie and LED lighting.
Lynx Grills
We carry Lynx Professional Series And Sedona Built-in And Freestanding Grills. All of Lynx Speciality Cooking products are designed with every feature thought through, fully engineered, and crafted to give both you and your guests an elevated dinning experience.
Lynx Professional Series Grills
The Lynx Professional isn't for show, it's a work of art. It's not about glamour, it's about cooking on a superior machine.
One so well engineered and built, that it can seamlessly blend into an elegant outdoor room, but perform on par with its professional restaurant cousins.
---
Lynx Sedona Series Grills
The Sedona by Lynx fits comfortably in a world where luxury elements are balanced with well-worn staples. It's comfortable and flexible, always evolving to be the best at something new.
Where warm breezes mix with good friends and quiet moments. A world where big meals are designed to delight, or intimate dining is enjoyed under the stars.
---
Kamado Joe Grills
Kamado Joe is a brand of high-quality ceramic grills. Kamado Joe beautiful looking grills are known for their versatility, durability, and ability to produce delicious and slow-cooked meals.
Kamado Joe grills are equipped with a number of other features that make them stand out compare to other grill brands.
Our collection of Kamado Joe Canada grills include Big Joe I, Big Joe II, Big Joe III, Classic II, Classic III and other series of grills and wide range of accessories.
---
Coyote Outdoor Living
Coyote Outdoor Living designs and manufactures outdoor kitchen equipment including outdoor refrigerators, grills, refreshments, and storage products.
Coyote is committed to making outdoor kitchens an attainable reality for anyone who is passionate about cooking, entertainment.
All of their grills are built with premium grade 304 stainless steel throughout.
---
Why Choose Our Outdoor Custom Cabinets in Toronto, Ontario, Canada?
We understand the importance of delivering durable and affordable outdoor kitchens that not only look beautiful but also last a lifetime. We believe that our customers should never compromise their outdoor living experience.
We are proud to offer not only the best outdoor custom kitchen cabinets at affordable prices, but we also design outdoor kitchens as well offer durable outdoor products at great values so we can help build your dream kitchen. We are one stop shop for all your kitchen renovation and remodel needs.
---
Castle Kitchens & Appliances has knowledgeable and professional kitchen designers to answer any questions you might have about your next Outdoor Kitchen Project from the Design process to Installation. Whether you're starting a renovation or building your dream outdoor kitchen in Toronto, Ontario, Canada, we are here to help you every step of the way.
And so if you're looking to buy Outdoor kitchens in Toronto, Markham, Richmond Hill, North York, Woodbridge, Vaughan, Stouffville, Newmarket, Scarborough, Oshawa, Pickering, Ajax, Brampton, Mississauga, Etobicoke, or any where around the GTA? Look no further.
We also carry a wide selection of Kitchen Appliances including Ranges, Cooktops, Wall Ovens, Refrigerators, Dishwashers, Coffee Machines, And Wine Storage.
We look forward to seeing you soon at our kitchen showroom near Toronto, Ontario, Canada.