Plum PLUM011 Wine Dispenser and Preservation System
90 Days Preservation
2 Individual cooling chambers
Automatic Refrigeration System
Virtual Sommelier & Wine Recognition
150 Bottles of Preservation
Plum PLUM011 17 Inch Wide 2 Bottle Capacity Countertop or Built-In Wine Dispenser and Preservation System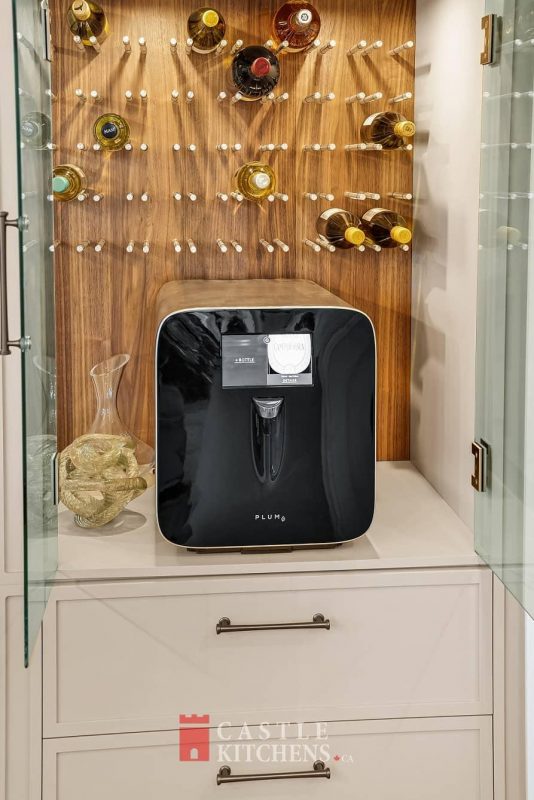 The first appliance to automatically preserve, chill, and serve any bottle, by the glass. Plum holds two standard bottles of wine, automatically identifies any varietal with artificial intelligence, chills each bottle to its ideal serving temperature, and preserves wine for 90 days – offering a new way for people to enjoy wine by the glass with a single touch of a button.
Product Features:
Wine Dispenser and Preservation System – Fully automated luxury wine system that preserves, identifies, chills, and serves your favorite wine.
Elevate Your Evenings – You deserve the special bottle – one perfect glass at a time. Plum is the ultimate luxury for wine lovers. Enjoy every single bottle in your collection served by the glass at a touch: perfectly preserved and at the perfect temperature.
Drop in Any Bottle – Plum works with any standard 750ml bottle, including natural and artificial corks, and even metal screw caps – without removing the foil or closure.
90 Day Preservation – The Argon Delivery System works with the motorized needles to pressurize bottles to protect flavor and aroma for up to 90 days.
Automatic Refrigeration System – Dual Solid-State cooling chambers automatically chill each bottle to the ideal temperature, with customization available to accommodate your individual taste.
Virtual Sommelier & Wine Recognition – Plum uses advanced artificial intelligence to automatically identify the vintage, varietal, region, winery, and wine. Simply drop in the bottle with the cork and foil still in place, and Plum becomes your virtual sommelier.
Customized Servings – Pour a 5-ounce glass, a 1-ounce taste, or customize your serving sizes. Plum's dual spouts pour and aerate each wine directly from the bottle to your glass.
150 Bottles of Preservation – Plum comes with a fully reusable argon gas canister that preserves 150 bottles, so you can focus on enjoying your wine rather than swapping argon.
Motorized Needle – Designed for everyday use, Plum's patented double-cored needle automatically pierces through the foil and closure, simultaneously extracting wine from the bottle and injecting argon gas to prevent oxidation.
7 Inch HD Touch Screen – Equipped with a proximity sensor that illuminates upon approach, displaying the wine label and creates a tasting room experience for each bottle.
Automatic Cleaning – Built-in automated cleaning system ensures that it is always ready to pour the perfect glass.
For the Stylish Among Us – Plum is clad in a gorgeous curved #4 brushed stainless steel shell that wraps around the body. In the front, a piano-gloss black panel highlights the investment cast, hand polished spout that delivers wine to your glass. Plum shows off your wine collection.
Compact Design – Plum fits perfectly on a standard kitchen countertop, and it can be inserted into customized cabinetry. At a slim 15 inches wide, it won't monopolize space.
Product Specifications:
Height: 16-9/10″
Width: 15″
Depth: 20-1/2″
Bottle Capacity: 2
Product Weight: 65 lbs
---
Shop for Plum PLUM011 Wine Dispenser and Preservation System at Castle Kitchens And Appliances. We serve customers in Toronto, Markham, Newmarket, Vaughn, Woodbridge, Thornhill, Stouffville, North York, Mississauga, Brampton, Richmond hill, Etobicoke, Scarborough, Oshawa And All around the GTA with quality workmanship, excellent products and outstanding service for over 21 years.
And so, if you are looking for Plum PLUM011 Wine Dispenser, and you live in the Greater Toronto Area (GTA) or if you have any questions about Wine Dispenser and Preservation System promotions and prices, please feel free to call us at (905) 944-0060 or email us at info@castlekitchens.ca or even better stop by our Kitchen Showroom in Markham, Ontario and get kitchen design help and idea on your next project from our certified design team.