Best Urban Bonfire Outdoor Kitchens And Cabinets Collection
Made in Canada
Urban Bonfire is the market leader in outdoor space activation centered around family, friends, food and lasting memories. They design and manufacture functional, beautiful and high-performance outdoor kitchens and entertainment solutions for clients in Canada, USA And all around the Globe.
We carry complete collection of Urban Bonfire wide selection of outdoor kitchen cabinets and accessories. Each cabinet is designed to maximize storage space and functionality.
Urban Bonfire is dedicated to designing and manufacturing timeless quality products for outdoor kitchen space. With a fully integrated in-house design team, efficient manufacturing and compatibility with most major outdoor appliances and countertop surfaces,
Their selection of more than fifty configurations allows you to choose a kitchen that suits your needs and your space.
---
Our Best Sellers Of Urban Bonfire Kitchens In Toronto, Ontario, Canada
---
The Urban Bonfire Classics Framework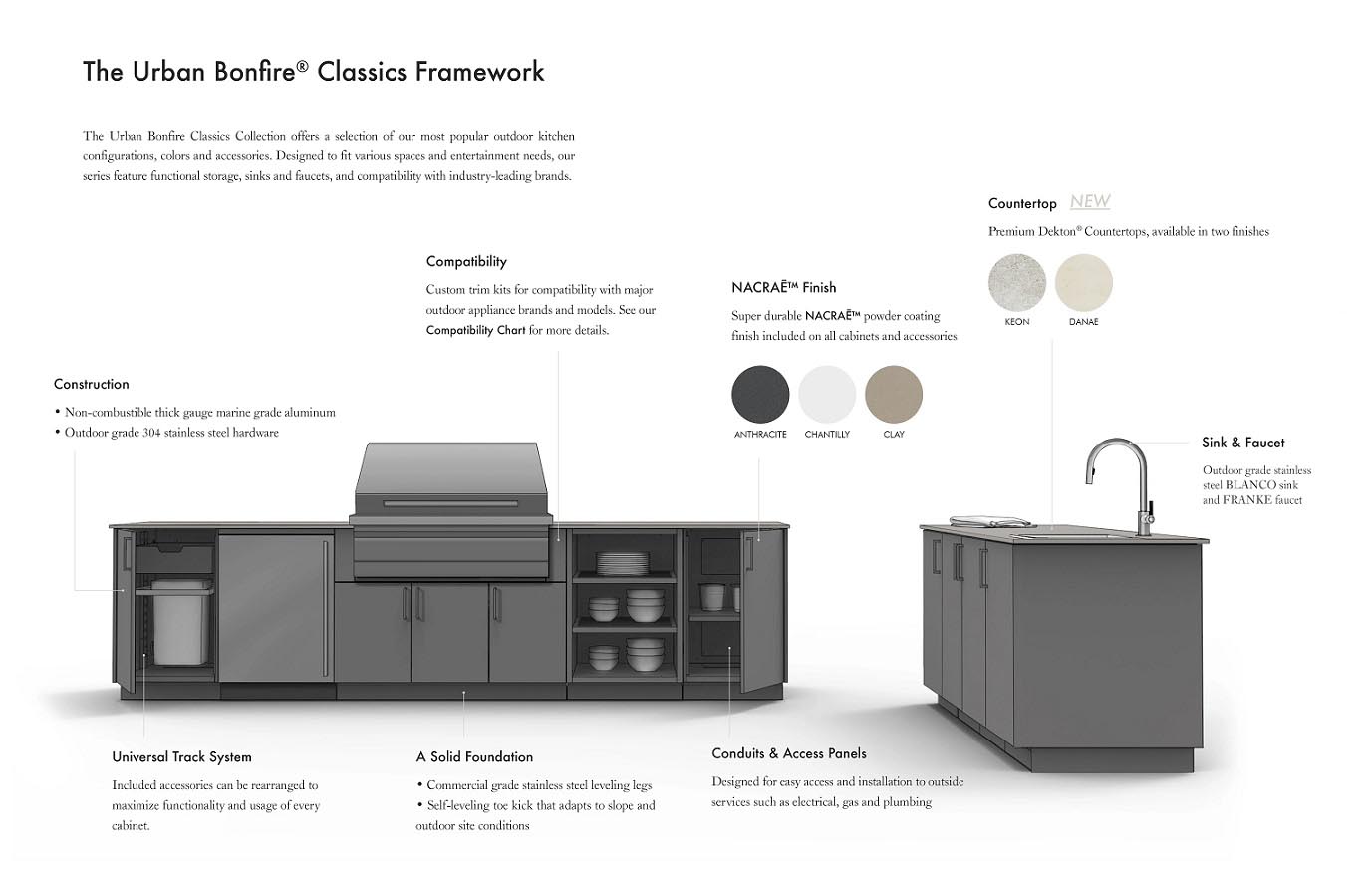 The Urban Bonfire Classics Collection offers a selection of our most popular outdoor kitchen configurations, colors and accessories. Designed to fit various spaces and entertainment needs, the Classic series feature functional storage, sinks and faucets, and compatibility with industry-leading brands.
Their Classics program is compatible with world-leading outdoor cooking appliance brands including Hestan, Lynx, Sedona, Artisan, Alfresco, Evo, Coyote Outdoor, Kamado Joe, Marvel, Pitt Cooking And More.
---
Finishes and Hardware
More than just beautiful aesthetics and finishes, their rugged cabinetry modules are domestically built and carefully assembled from quality materials and finished by experienced craftspeople.
Anthracite
Modern dark gray with slate undertones. Elevates contemporary and outdoor urban environments.
Artesan
Dark gray finish with a warm bronze undertone. Designed to accent wood and natural limestone while still creating a welcome contrast through its depth of tone.
Chantilly
This crisp white works in almost any outdoor setting. Reflecting tones of silk and clean linen.
Clay
An elegant and versatile rich beige. Enhances the mood and atmosphere of any classic outdoor living space.
Onyx
Deep, dark black that is sure to create a standout piece in any environment.
Pewter
Warm dark gray with bronze undertones. Adds a refined touch to any outdoor environment.
---
Urban Bonfire handles
Each cabinet includes their premium outdoor grade 304 stainless steel handle.
Upgrade Options
Powder Coated Stainless Steel Handles
For added personalisation and design, handle upgrades in powder coated finishes are available (optimal choice for heavy saltwater climates).
Solid Bronze Handles
For added personalisation and design, handle upgrades in solid bronze are available. Their "living finishes" will weather over time as natural bronze changes tone and character as it gains charm.
---
About Urban Bonfire
Founded with the idea of being "the Williams-Sonoma of the outdoors," Urban Bonfire started humbly as a full-service outdoor kitchen appliance store in a 400 square foot retail space.
The founders Ryan and Stefan used community and experiential events to build the brand and create an atmosphere that was both country sweet and city smart.
Using creative designs and expertise in appliances and outdoor cooking techniques, Urban Bonfire quickly became known as the experts in outdoor kitchen design in North America.
Before long, 400 square feet turned into 4,000 and then 10,000 and the rest is history.
---
Castle Kitchens And Appliances carry a wide selection of Urban Bonfire outdoor kitchen cabinetry and accessories. Our professional design team can develop custom layouts and configurations for your Outdoor kitchen.
We can help you create outdoor space that's perfect for not only cooking but also for entertainment. Built-in Grills, outdoor refrigerators, and Storage Space all come together to create a stylish and functional outdoor kitchen space.
Like many other rooms in the house, the outdoor kitchen space is in constant evolution.
We also have our own delivery service, so you get your cabinets fast and safely.
If you have any questions about Urban Bonfire Installation, Cost or need help gathering ideas, please feel free to Call us at (905) 944-0060 or email us at info@castlekitchens.ca to learn more about our outdoor kitchen products. We look forward to seeing you soon at our showroom near Toronto, Ontario.