Backyard Kitchens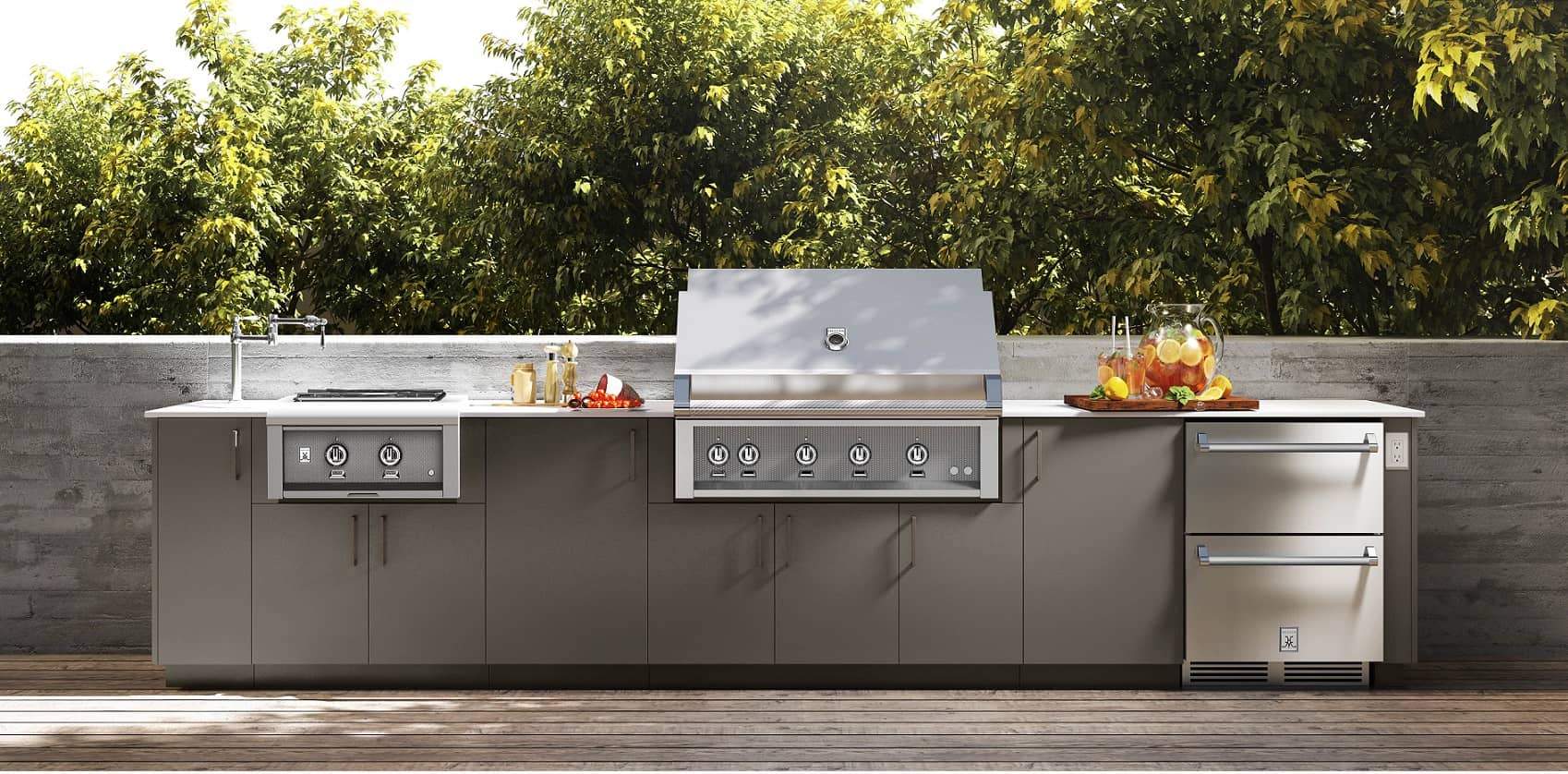 Take Your Backyard Kitchen To The Next Level
Looking to build and level up the look of your Backyard living space? Consider installing an Outdoor Kitchen. We can help you create a space that's perfect for not only cooking but also for entertainment as well.
As the days get longer and weather gets warmer, our focus naturally shifts to the Outdoors.
Building an outdoor kitchen will improve the look of your backyard while simultaneously adding functionality. Eating outdoors is one of the greatest joys of summertime.
Castle Kitchens And Appliance builds, designs amazing and stunning Backyard Kitchens. From Design to Installation we take care of everything for your outdoor space. No matter what your budget is, we will work together with you in making your kitchen dreams become reality.
Built-in Grills, refrigerators, outdoor pizza ovens, and Storage Space all come together to create a stylish and functional outdoor backyard kitchen space.
Our experienced and trusted team can help and walk you through every step of the outdoor kitchen design process in order to make sure your dream kitchen is built the way you want it.
---
How To Plan Backyard Kitchen
When planning a Backyard Kitchen Space, you'll need to determine the best location for your new kitchen, the size requirements, countertop placement, layout design, and outdoor appliances.
You'll also need to think about how many people you intend to accommodate, overall budget for the kitchen, your Entertainment needs, and finally the materials.
---
How Much Does It Cost To Build An Outdoor Backyard Kitchen?
Installing an outdoor backyard kitchen can cost between $5,000 and $50,000, with most homeowners spending around $15,000 – $20,000. However, your cost will really depend on the size, appliance options you decide to go with, and the materials you choose.
---
Backyard Kitchens Gallery
---
And so, if you're looking for Backyard Kitchens Company near Toronto, Markham, Richmond Hill, Stouffville, Newmarket, Brampton, Vaughan, Woodbridge, Mississauga, Scarborough, Ajax, Pickering, Oshawa, or anywhere in the Greater Toronto Area or if you any questions about Backyard Kitchen Pricing, Outdoor Kitchens and remodelling please feel free to call us at (905) 944-0060 or email us at info@castlekitchens.ca. We are open 7 days a week.